A post I have been planning to write for a while…
First the present – we have been travelling together to Jefferson Co., Warren Co., and Forest Co., PA for Rog's work for about a year now (he has been going longer) and it has often crossed my mind that I wanted to tell the Tionesta story. I have not taken the time until now when I'm recuperating from a migraine and feel too tired to do anything else except type my data entry files that I need to do for our work– which I'm going to do next!
So I have become familiar once again with Tionesta (in Forest County) along with the neighboring Tidioute. We see them every three months. They are beautiful, in the PA Alleghenies.
My first experience of the Alleghenies and Tionesta was with my dad in about 1979 when I was about 14. He had begun when I was about 11 to take me on a vacation every summer. In approximate order it was 1977 – New York City, 1978 – Detroit and Ste. St. Marie, Michigan, and 1979 – Alleghenies, PA. We started off driving 6 and/or 322 and I remember visiting Corry, Warren, Tionesta, and Oil City.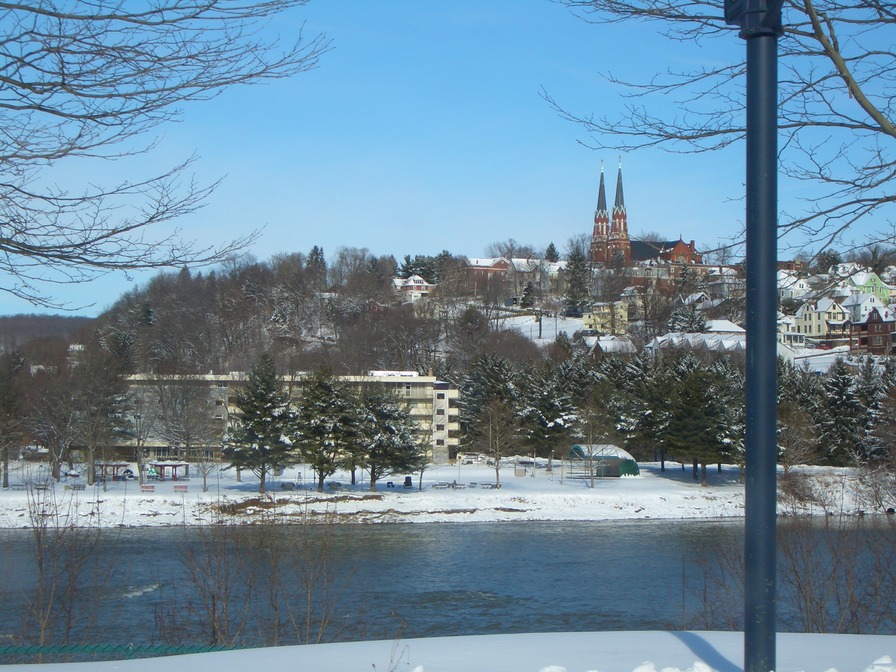 http://pics4.city-data.com/cpicc/cfiles70616.jpg
(we were as a family in 2007 in Oil City when Rog worked there briefly gathering data for work – I have pics somewhere but not findable at the moment, this is from Google)
My dad and I also drove all around the rivers and mountains in the area, visiting Kinzua Dam, especially.
http://media-cdn.tripadvisor.com/media/photo-s/03/b9/17/e0/kinzua-dam-spillwater.jpg
I was so taken with the area, I decided someday I wanted to move there. I also remember eating at a restaurant in the town of Tionesta that had delicious pie. I don't know if this is where we ate — http://www.pierogiemama.com/Pages/default.aspx (2020 dead link) but I know Rog and I had tried to eat there, but they're only open for breakfast and lunch so we keep missing it!!
When I was about 14, I wrote my own book about a girl named Karen, that lived in Tionesta, PA. I loved that book and really thought it was the best writing I ever did. I put my heart into it and it reflected a lot of things I was growing up with at the time, being overweight, lonely, learning to achieve my own goals, make friends, growing up. I finished that story in 9th grade and totally was devastated when I no longer had the story anymore, as it was either lost or thrown away. But that's how important Tionesta was to me at that time…
Years later in 1984 when I met Roger and we started dating, we took a drive back there and ate at the same restaurant my dad and I did. We drove many of the same roads as well.
We drove there in 84, and I think in 86 and 87 too – it's getting a little blurry now! We also discovered the Allegheny State Park in New York around that time, which my dad and I did not visit. Camping there in 89 or so, 90, and 94, to my recollection, followed, with lots more wonderful memories!
Then we have our own NEW memories in Tidoute, which I don't remember from before. So we have a neat progression of very old history, with my dad; still old history with my husband going back all the way to our dating years; and then brand new history in a new town in the mountains.