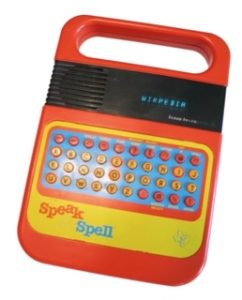 You're a Speak & Spell!! You nerd, you. Just
because you were disguised as a toy doesn't
mean you weren't educational, you sneaky
bastard.
What childhood toy from the 80s are you?
brought to you by Quizilla
it is a lazy Sunday and I have SO much cleaning to do.
Last I wrote Chris was having a VERY VERY VERY bad time. We had an awful 4 months – February – sinus infections, ear infections with ear injury from hitting; March, 2 ear surgeries, missed most of the whole month off of school, plus drug reaction to Seroquel/Risperdol and withdrawal; April, entire month, I believe, from school, just about (he may have gone a week or so), had 1-2 more sinus infections; May, Tonsillectomy/Adenoidectomy, and finally had to start more meds as he was still being aggressive, self-injurious, and very very upset and not sleeping at all hardly (like 3-4 hours every few days is all); and June started horribly as well but FINALLY last 3-4 days his new meds (Tenex) is kicking in and he's sleeping a little more and is seeming happier. FINALLY.
(2020 pans/pandas)