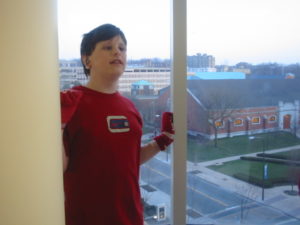 hope to soon have time to ramble, but here's just a cut and paste….. simply a copied email I just sent out. Prayers appreciated…….
I wanted to send one final update on Chris and then hopefully things will be calm and stable for a while!
(A summary in case I had missed any of you in rushing to get the prayer requests out – Chris had surgery on his ear 3/10 after he'd caused hematoma on it from hitting it so much. He then destroyed the surgery as we could not keep him from hitting it/picking on it and he had another surgery at the hospital on 3/19. He got out of the hospital on 3/26 after being anesthetized again on 3/26 for the pediatric surgeons to make sure ear was healed (this time under 24-hour supervision). It was, so he was sent home.)
His meds were adjusted greatly and so far seem to be working. He has slept through the night every night since last Saturday night. Yesterday he took a nap at home and then still slept 11 hours at night! So far he is calm and easygoing.
We are not going to be complacent however, and shall be vigilant about seeking more therapies, help, and support for Chris, as he can change behavior overnight. We believe the behavior was related to the pain (hitting everyone plus himself), but as the hitting caused the hematoma in the first place we have to find help to discontinue the self-injurious behavior entirely so he doesn't injure himself another way. This is not the first time he's injured himself. He has been hitting himself on and off for 5 years.
note from 2020 – need to check 1999-2004 as to when he had any infections that would lead to possibly Pans/Pandas causing the aggression and any OCD.
Meanwhile, though, things are stable and I praise God! He has been calm on his own, resting, or sitting, or on one of our walks. He still wants to go away a lot and I think he'll be happy to get on the bus tomorrow! I have not had to sit by him continuously making sure he's not messing with his ear, but I have been continuously checking him, and he is not bothering it. I check him about every five minutes or so. Thank the Lord, again.
In the meantime our family ripped out Chris' carpet and put down wood tile in his room! It is beautiful! His carpet was soiled and unhealthy, and we discovered after it was ripped out that some water had leaked under the wall from the laundry room so luckily we put some concrete sealer in there to keep that from happening again! Mildewy floors are no good for anyone let alone Chris who has allergies anyway. So I'm also grateful that that problem is resolved (a problem we didn't even know about – it must have been a very small leak for it to go unnoticed!).
All for now – thanks again for prayers and thoughts – I'll let you know if anything new happens. The next hurdle shall be the tonsillectomy/adenoidectomy he needs to eventually have (they found that in scoping/examination during the surgery at Rainbow's). That may be in the summer.
[ad#checks]