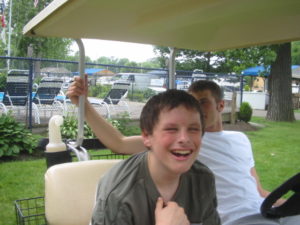 User: dori
Comments: feel like the straw that broke the camel's back just happened – my aide just called and asked if I thought Chris would hit her today how do i know… – I said I didn't know, he's mostly hitting himself, but that he had hit me some especially on Saturday. She said she's not coming today and that she's going to call her office and explain how much he's hitting her (he did hit her a lot on Thursday – she had a sore arm from it) and whether they still want her to come back – what do you think will happen?
2020 – yet another pans/pandas note… is that what this aggression was from??
I told Rog if I don't have an aide I think we will have to have him go live somewhere else. We may do it this week. I'm so depressed. I can't do this with no help. My mom did help me yesterday but he was hitting her and pushing her and she's only 5'4″ and about 105 pounds so she can't take too much -she's also 61. My MIL isn't even coming around to watch him anymore really – she's pretty sick right now.
What's sad is that Chris really isn't acting that bad today -I think she could have worked with him okay at home. She wanted to take him out, at first, though – she wanted to take him to the library and to Walmart. I said, well, he's kind of bruised and bleeding, I'm not sure he'd be up to all that. That's when she asked me the hitting question.
——————————————————————————–
Time: Monday, 7/5/2004 1:26:47 PM (#56468)
User: dori
Comments: old comment replies – Chris is going to a camp for children with disabilities. He does have an aide. They did accept him last week even though his behavior was more aggressive. But I don't think they would accept him tomorrow – besides I plan to take him to the pediatrician to have him more fully checked out. He's on his third day of antibiotics for the external ear infection so that should be feeling a lot better by now. They are going by his IEP at the camp. He has a male one-on-one with training in special ed.
I can't recall if I mentioned this, but I truly can't see how Rog is going to start a new full time job, let alone look for one, when Chris isn't sleeping. I think before anything changes on the job front Chris either has to be sleeping or we have to somehow get an overnight aide (like our I/O waiver would suddenly come through) or he has to go live somewhere else. We're still switching nights sleeping and we're zombies. It's bad. Rog slept 1 hour last night. The night before Chris slept. The night before that Rog slept 1 hour. Then last week I had like 6-7 hours sleep in 3 days (Chris only slept 14 hours in one week last week).
The emergency room prescribed Chris Ambien. It did NOTHING.
more in a minute..
——————————————————————————–
Time: Monday, 7/5/2004 1:34:11 PM (#56469)
User: dori
Comments: – I bought some Exedrin Migraine the other day (I have had 2 migraines in 5 days). I am going to the dr. on Thursday. The meds he prescribed me over the phone (I'm a former patient of his for migraines) were not accepted by our insurance so I have to ask for something else ($110!). I don't know if the Exedrin Migraine will work – I've never tried it. I still wonder if this is a pre-menopausal thing going on. Nothing else has changed. UNLESS it's nutrisweet? I am drinking some of the sparkling fruity water – maybe one bottle every 3 days? Is that enough to cause a headache? And the nutrisweet headaches, are they migraines?? Or just headaches?
XXX – I agree, drastic changes in sleep can cause migraines. I get them after I sleep a lot, usually.
XXX – I totally agree that helping Chris helps our whole family. I know what we've been through this past week (much about which I've not even posted yet) was a wake up call to me that I need to put my college plans back on the back burner again. I think when he gets a little better I start looking at what else I can accomplish again, and because he had a little mini rebound of doing pretty good again in mid-June I just started thinking, OK, now I can start school. But as you can see it didn't last.
Comments: XXX, thanks for your comments too on college and the diet. We have modified our diet greatly – we feel so good to have the sugar out of the house. Everyone is still adjusting to that. Chris rarely has milk – only occasionally cheese. And he's actually hardly eating right now so he's not getting much wheat at all. He's skin and bones – right now I don't think we'll fool too much more with his diet but I will watch very carefully that he doesn't get too much glutein, whey, or casein. Mostly what he gets is applesauce, chips and salsa, occasionally a (lactose/whey free) hot dog – he is just NOT EATING! I don't know if the risperdol just put so much unnatural weight on him that his body is just trying to lose it all, but he seems TOO thin to me now. I'll be discussing all this with the ped. tomorrow.
2020 note – Pans/pandas can cause food strikes… happened to Ryan in 2018. Although Chris being off psych. meds could have also caused this weight loss. If I am remembering correctly I believe at this age of 13 he had gone from about 155 pounds – or 175?? down to about 95 pounds, again IF I remember correctly.
YES, XXX, we do need to check out placement places (unless we do something this week, in which case he'll get first that comes up). I finally found my list of places yesterday and plan to call down the list and visit them. This week.
XXX, thank you for your music comments and also about Chris. I was in a dance/choral group that was great fun in college. I do know how to read music. I took about 4 years of guitar lessons between 6th grade and 12th grade (missed some months in between). I only took about 12 weeks of piano in college, and 12 weeks of voice. Guitar is my specialty along with voice and that is what I would study at Baldwin Wallace.
XXX, Chris's hips and thighs and knee and chin are all bruised because he's hitting them over and over again. And he's made his chin and behind his ears bleed. They're bleeding again today. He either has something severely wrong inside him making these places hurt and he's hitting them, OR it's self-injurious behavior where some people just keep hitting because it's a type of stimulation that they actually like (it's weird but it exists, it's horrible). I took him to the ER hoping they could tell which it was but they didn't know. No one knows.
XXX pretty much the way they address his behavior was to tell me first that they had to get him a special room because the people were afraid of him in the waiting room. That was about it. One nurse chuckled and said, Oh, I can see why he's wearing a helmet.
Chris is actually pretty mellow right now…..
——————————————————————————–
Time: Monday, 7/5/2004 1:54:58 PM (#56472)
User: dori
Comments: Rog took Colleen and Ryan to the family 4th of July party. It's actually easier to care for Chris with all them gone. So maybe that's a good thing. I miss the festivities though. I feel like cheating on something small to at least celebrate the 4th a little – I know, bad! I have lost over 14 pounds now.