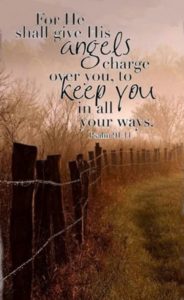 A copy from my 07 newsletter…. still very true!
Mary's Song
Luke 1:46-55
And Mary said:
"My soul glorifies the Lord
and my spirit rejoices in God my Savior,
for he has been mindful
of the humble state of his servant.
From now on all generations will call me blessed,
for the Mighty One has done great things for me—
holy is his name.
His mercy extends to those who fear him,
from generation to generation.
He has performed mighty deeds with his arm;
he has scattered those who are proud in their inmost thoughts.
He has brought down rulers from their thrones
but has lifted up the humble.
He has filled the hungry with good things
but has sent the rich away empty.
He has helped his servant Israel,
remembering to be merciful
to Abraham and his descendants forever,
even as he said to our fathers." (KJV)
VIDEO I put together to "Mary, Did You Know —
Last year's picture blog —
https://www.criscollrj.com/2020-monthly-picture-blog/   2020 picture blog!  (2021 note, I may do this at some point for 21 and more likely for 22.  I am vaguely disappointed in ways with both that method and this one used here in 21…. would like to find the PERFECT picture display method…. ha ha.)
A text only version of this newsletter — this one is picture heavy.  (WILL BE UNDER CONSTRUCTION, IF NEEDED–let me know)
PRAYERS TO ALL this second very strange year!  After God brought us through COVID last December, we are thankful for no lasting problems except some extra fatigue for about 6+ weeks.
So grateful also for our sons' recovery and my mother's.  Strangely no one else in our families got it!  We had two humongous snowstorms in December of 2020 that made life interesting trying to get out of the house for COVID tests and needed grocery pickups. Broke limbs on several of our trees!  The snow stayed around until at least February, and as we gained strength we started walking at the parks and seeing the frozen lake.
WINTER 2021,
JANUARY started off the year baking cookies that we gave to family and friends!1-4-21 Roger went back to college, and has several classes finished now towards his Psychology/Human Services Degree from Southern New Hampshire University! Later in January I began substitute teaching again.  I also FINALLY got back to some transcription for Free State, and did until April when I once again needed a break due to overscheduling!  Looking forward to doing some more this winter to "keep my fingers in the pot."  I also often do some data entry at home, both for courthouses and for a friend's printing company.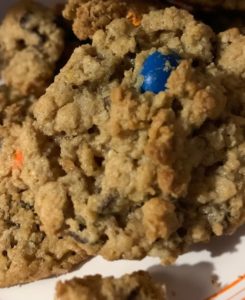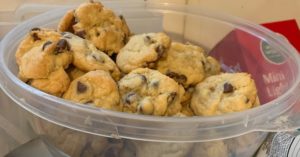 The two December snows we had in 20 (early,and Christmas Eve, I believe) gave us a huge snow build up that made for some really picturesque hikes!!! This one was really enjoyable at the Hobart Road branch of Chapin Forest.  The snow in the picture next to it it had slightly thawed and then refrozen and was pretty much impossible to walk on!  Lake Erie also froze over with all the cold and snow and looks so gorgeous.  Chris on one of our winter hikes.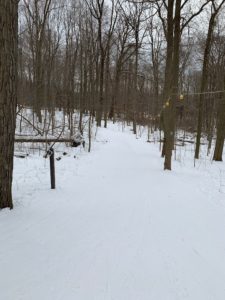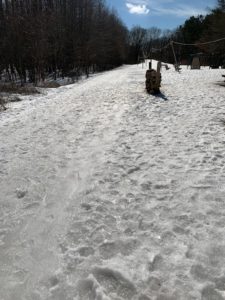 ,.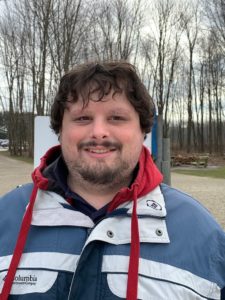 FEBRUARY brought the Ryan/Dorene dual birthday, and I'm sure we sang happy birthday to Aunt Lisa and Daddy Roger with the pandemic carefulness probably eliminating a party in January….. That was a great time, with everyone in a great mood to my recollection!  Hair days — I had a medium length haircut in November, not as short as usual, and by February it was this much grown out.  I wouldn't mind this at my next haircut… Roger got quite a full beard with the heavy winter snow and COVID hibernation, and was looking very jolly here, before he soon shaved it off.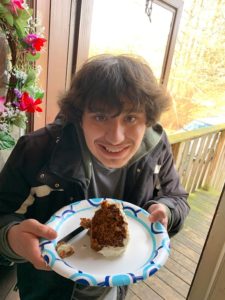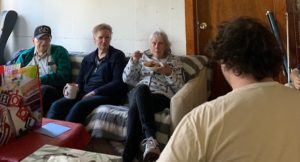 Both boys' sedation dental appts. occurred in March. Luckily, Chris had NO cavities and only one watch area.  Ryan just had one cavity, I believe. Back in '19 he had a very rough time, hospitalized overnight, having had infections in the wisdom teeth area.  We were so grateful this time it was uneventful! For 2022, sedated dental additional goals are:  hearing tests, to prepare for upcoming hearing aids; required blood tests; ear cleaning; and for Chris a biopsy, required for a new medication for a rapidly developing and frustrating case of psoriasis he started suffering from in March.  Prayers appreciated!
Our FIRST courthouse data entry visit since November of 19 occurred at Youngstown, then eating at our beloved Hibachi Sushi Supreme Buffet in Warren.   I was very nervous to start going into restaurants.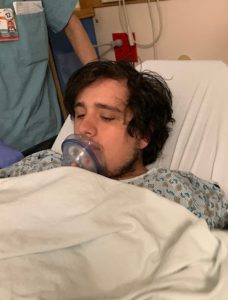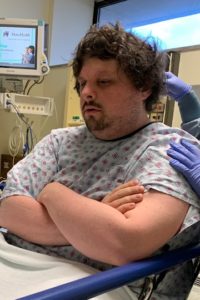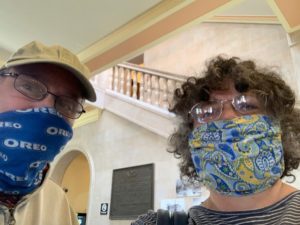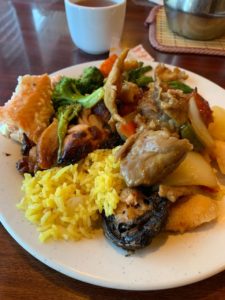 Roger has also continued to make the best pancakes periodically, flavored with vanilla, cinnamon, and sometimes strawberries or blueberries.  YUM!  I also had had on my mind for some reason the garlic stir fried brussel sprouts we tried at Heinen's way back in pre-COVID instacart days in early 2020, and one day when i saw them in the store I bought them, looked up this recipe for it on the internet, and made them!  I had never really liked brussel sprouts before.  Oh my gosh it was so good.  I did the same thing with some green beans also and also great.  I need to make them again.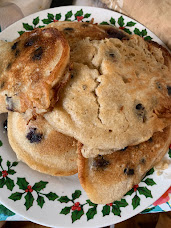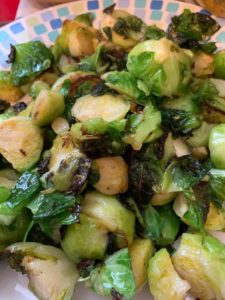 We continued to see Uncle Don as much as possible and get him out as much as we could.  He turned 90 in June!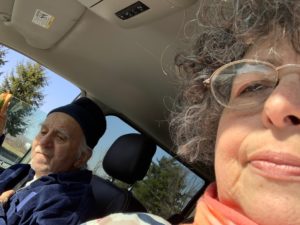 SPRING 2021, introduced both boys attending Special Sports drive-through Easter parade.  They had also gone to the Halloween one in '20!  Happily more Special Sports activities were around the corner!  Spring was a welcome sight this year – blossoms from all our fruit trees and ended up having the most fruit this year we've ever had.  Also our brilliant spring azalea.  We also have a similar one that blooms in the fall!  Had a very late spring snowstorm as well!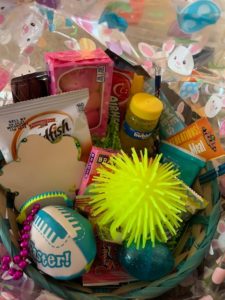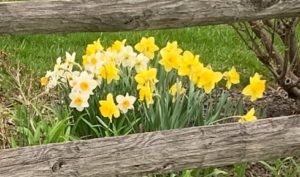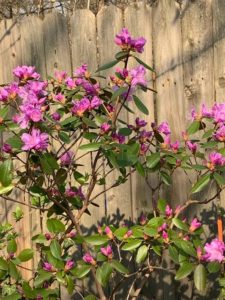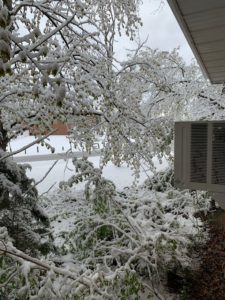 The boys' condo had a huge amount of reconstruction this year – NEW floors, water heater, dryer, upcoming washer and dishwasher.  Painting and other items help give a fresh clean look!

Ryan had a short-lived problem in May with PANS-like OCD but thankfully had very mild symptoms, after a digestive virus, and we were so grateful that his meds seem to be working.  You can tell he was very uncomfortable in this picture!  Chris also has had better sleep after a med adjustment helped him to sleep at night much more often!
We had two new male Bettas this year to keep along with Colleen's female Betta, Athena, still here since August of 20.  For some reason, however, they both passed, Silverwind about 6 months ago, and Blueberry just a few weeks ago. I am not sure Silverwind passed in May, but that is when this picture came up — I suddenly could not find him, and he was gone to another world.  Blueberry was a bit different, and I'll introduce him farther down. I am not seeming to have good luck with male Bettas, so will just hang with Athena at this point who is doing great despite having a lot of algae in her tank.  We plan to get her some snails…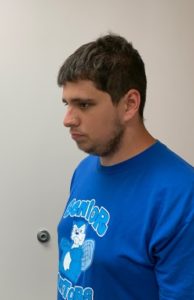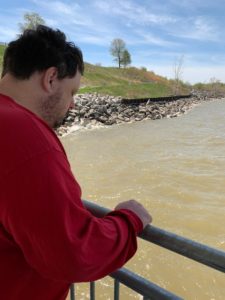 May also brought our first major out of town trip, SW Ohio, since November of 19.  Mask mandates were in the middle of being lifted, and I was SO nervous how people weren't masked at the hotel.  These went through into October, with trips into SE Ohio; NY Finger lakes; NW Ohio and NE PA.
Beautiful park in Indiana where we stayed in hotel doing SW OH counties.
It was my first time working in the King's Island/Cinci/Dayton area and was a neat new place for me to see.  Hadn't crossed over into Indiana since my trip from AZ in 1983!  (Had hotel there when we worked Preble Cty by the border.)  We had to leave Greene Co. Ohio undone because of their strict COVID rules at the time, and still want to meet with friend Pam and her family when we ever get down there!!!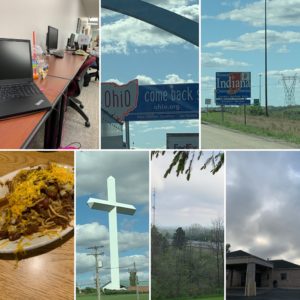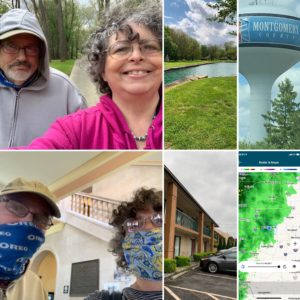 At Colleen's birthday time in May, she bought very sharp well maintained used car, a beautiful white roomy comfortable Mercury Mariner SUV.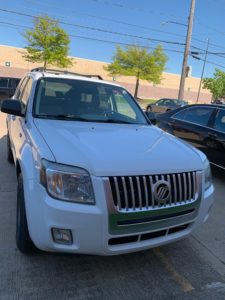 May also brought a picnic with the Jevnikars!
Ryan followed Chris getting first COVID shot.  He is not a fan of shots but was a trooper!  Both he and Chris did great getting their vaccines.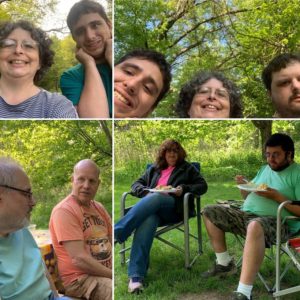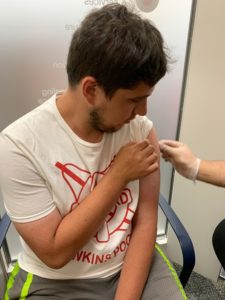 SUMMER, 2021,
JUNE also brought Roger and I new glasses, and a period where my hair was long but not out of control yet!!!  Chris and Ryan look pretty happy here too!  Colleen still has her dog Axel, two cats, and all her menagerie of lizards, snakes, and possibly a fish or two.  Axel was able to meet Aunt Lisa's dog Murphy when we went and visited them and Mama and Papa, and showed them her new car!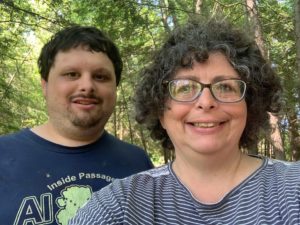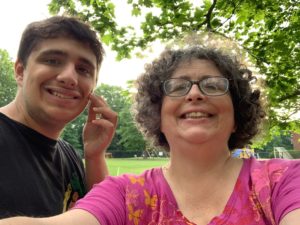 We got out of town in June for a data entry trip to Steubenville and Gallipolis, and other small towns, enjoying all our old favorites down by the Ohio River.
Continuing our make-up trips from the 2 year break, we also went to the Finger Lakes counties to work in New York in June.The views of the Seneca Lake in Geneva, NY were breathtaking as always, and the other lakes were beautiful as well.  We had two nights at Geneva and walked at the parks and ate in the restaurants we enjoyed in 2019.  We also revisited Saudis Point up near Rochester, and a daughter and father that we met there took our picture! Interestingly, by this time, June, there was pretty much no mask wearing, except in one county, near Syracuse, where they were required.  But things were altogether very relaxed, as COVID had decreased generally everywhere over the summer.  We also enjoyed the beautiful mountains before and after the Finger Lakes, and enjoyed our final night at Bath, NY in the mountains before our final day of work.
North shore of Lake Seneca, one of the Finger Lakes in Geneva, NY.
Saudis Point, near Rochester.
More Geneva, NY Pictures, Seneca Lake.
back to the mountains in the Alleghenies, Bath, Elmira.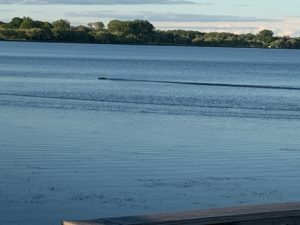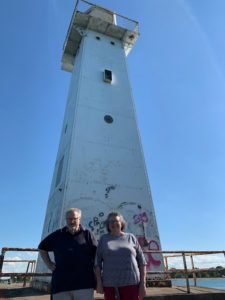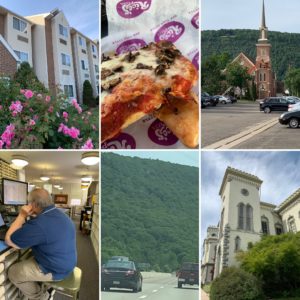 Also got Colleen to some parks, here we were by the Grand River with Roger and Axel.  I had a very challenging and rewarding summer job at a preschool south of Chesterland, 3 days a week with the preschoolers' class for students with autism.  Maskless, and virus talk lessening, it was nice to have a break from thinking about COVID all the time.  Was happy to show my mom the beautiful Mentor Lagoons for the first time!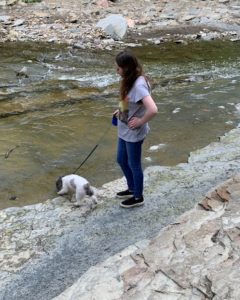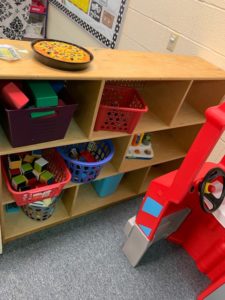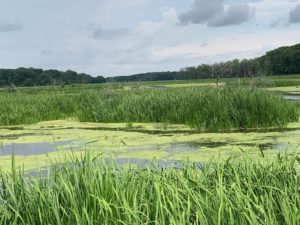 Fourth of July picnic with Jevnikars!
Picnic at Big Creek!
Also enjoyed two days of fireworks!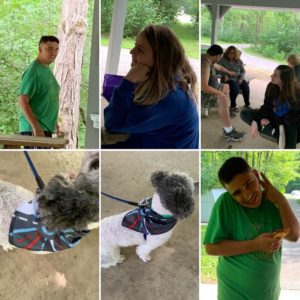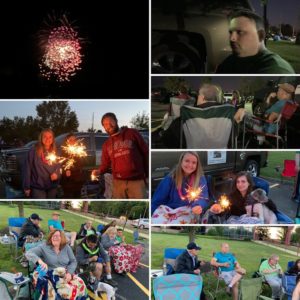 We also enjoyed a family reunion over the summer and also Lisa's daughter-in-law's baby shower.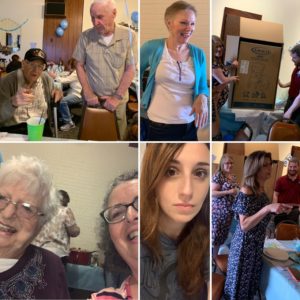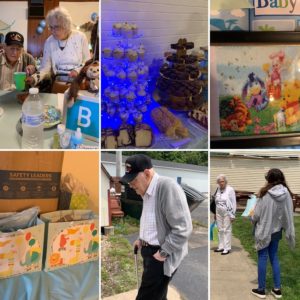 AUGUST
As my hair grows longer and longer headbands and pony tail scrunchies are back.  Love getting to park with the family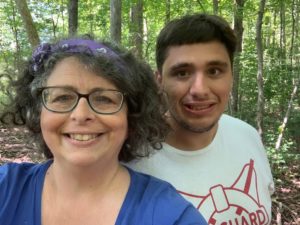 We also had a lot of fun with Special Sports summer events for the boys.  They had many picnics, bowling events, and swimming parties. Chris had a great time participating with his brother and peers.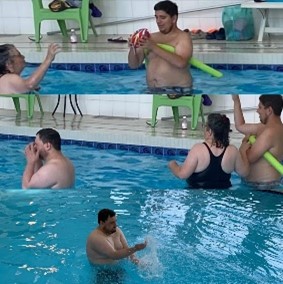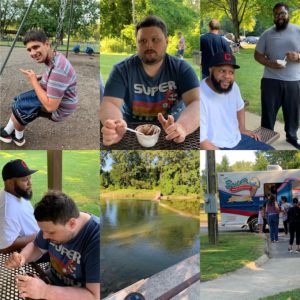 We visited Thompson Ledges more than once and discovered the bottom ledges.  I could not believe the similarity with these pictures from Ryan from 2016 at Hocking Hills, to the '21 picture at Thompson Ledges.
Got mom to the beach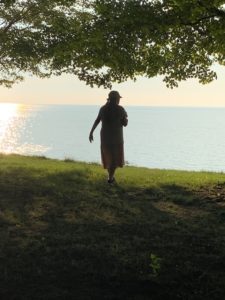 Nephew Eric and wife Becky welcomed Eric John (EJ) Lawrence at the end of August!  Welcome to the world, sweet boy!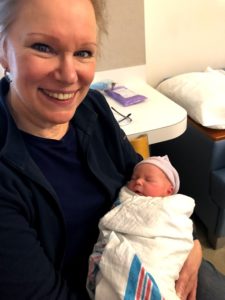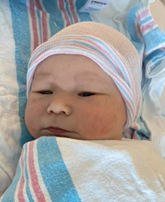 Then kitty Oliver joined Colleen's world end of August.  Her second cat was a rescue from our neighbor, a feral kitten.  Oliver is about six months old now, and is adorable, and loves to play with his older brother Oreo, the calico.  Colleen still works at Petsmart in Willoughby.  She is training for dog grooming and will attend a certifying class to be an independent operator!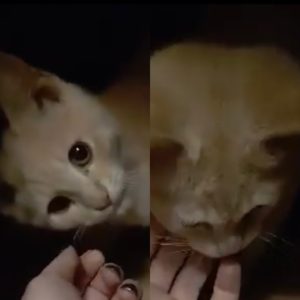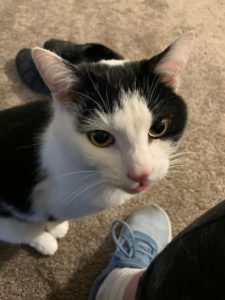 FALL 2021, SEPTEMBER – Ryan started job training this year at the popcorn shop/dog treats store affiliated with his school.  He is doing great with it and even had a spot on a TV news show about it on Spectrum channel 1!  You can buy popcorn AND order dog treats (all natural!) here!
https://www.northcoastcorn.com/
https://business.facebook.com/pg/accesstreats/posts/?business=10156242063180611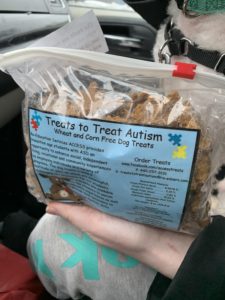 Ryan's job training involves "field trips," thankfully allowed again! Chris's workshop also started field trips and activities again so that Chris and peers can be active in the community doing things they enjoy and learning new things!  So proud also that he has also become much more adept and independent at selecting his IPad and visual schedule communication icons.
Crazy WINDY courthouse trip to Erie Islands area culminated with our first ferry ride, a trip to Kelly's island!!
Very windy first day in Port Clinton.
Kelly's Island!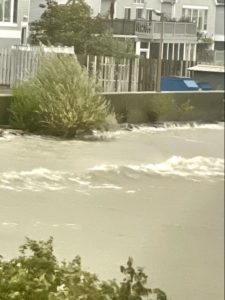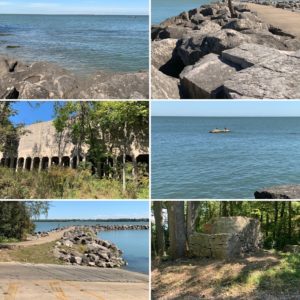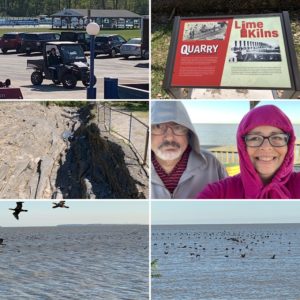 Last data entry trip in October was a little different than our usual.  Colleen came along with us, and we also visited family in Corning, NY.  We stayed at a cabin in PA, and worked in PA.  It was a unique, gorgeous, fun trip!  Our only drawback is we all ended up with colds.  We continued to mask up and prayed it wasn't COVID.  When I got home I tested, and luckily it wasn't COVID, just a cold.
Our first arrival:
it truly was a charming little cabin in the woods.  It was in the middle of nowhere, tho it truthfully was only 20 minutes to the courthouse we were working in.  Colleen really enjoyed staying there and exploring.  What a nice unique experience it was!  And that strange pic on the bottom right was spaghetti and it was a delicious dinner the first night though it looks a little strange there!
What the cabin looked like inside.  We slept upstairs, Colleen slept downstairs.
Our beautiful walk outside after work the first day.  These mountains are called the Endless Mountains and are between the Allegheny mountains and the Catskills that start more to the East in New York.  They were very unique and breathtaking to see.https://en.wikipedia.org/wiki/Endless_MountainsWhat a treat, and actually unexpected, as usually in the towns we visit to work in the Eastern PA and New York counties we work in are not this far East to see this different set of mountains.
After we investigated the cabin we drove to Waverly Glen where we found a treat of a waterfall in a free municipal NY park.  Roger and I had visited the park before in September of 19  but did not see the waterfall in that visit.
That second night we made the best fire we could with some damp materials and managed to make smores with Colleen, and also got some beautiful misty morning pictures around the cabin.
I insisted on a seflie before we left the cabin.
This collage shows us in Corning where we were meeting our cousins before heading back home.  Autumn foliage on the road, Rog in a cool record store, a cool Corning business in this picture.
This collage shows us all getting pictures in the middle of Corning, looking in some stores, and revisiting (and sometimes meeting for the first time in memory!) for the first time since 1994.  the second collage shows the first time Nick and Colleen met in '94.
Visiting the cool glass shops in Corning.
A collage of the gorgeous waterfalls and cliffs at Watkins Glen, our last destination in NY before going home.  Unfortunately the main stairway was closed so we were only able to walk the outside set of steps.  But it was still glorious.  Colleen made here own trek to the Rainbow waterfall, and I was glad she got to see it.  Normally this path shows about 18 waterfalls.
In Watkins Glen before getting on the highway home, we stopped for 5 minutes at the south shores of Seneca Lake, one of the main Fingerlakes.  We see the NORTH shore in the trip we took in June to those data entry work counties.  We were so happy to have our daughter see the south shore, knowing we were out of time to visit any more of them this time.  And then a crazy cow by our last stop for a snack and drink before driving 4 hours home.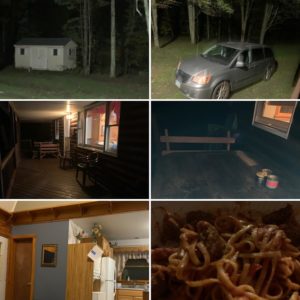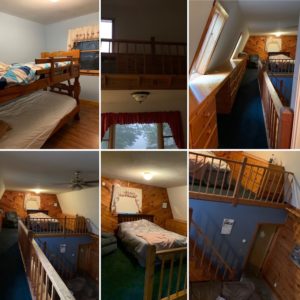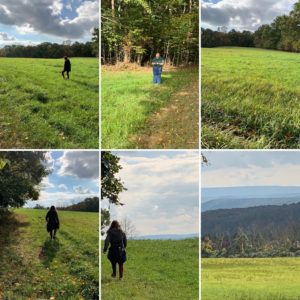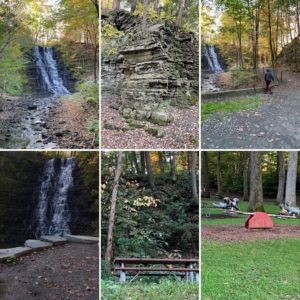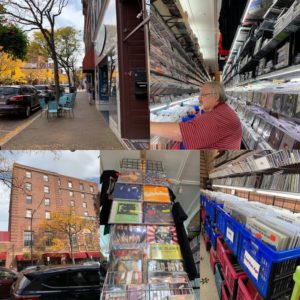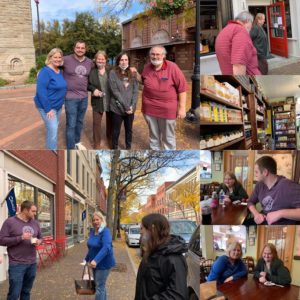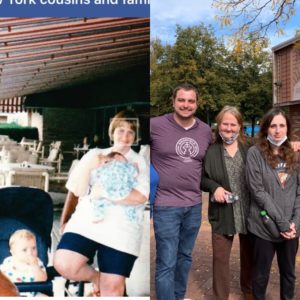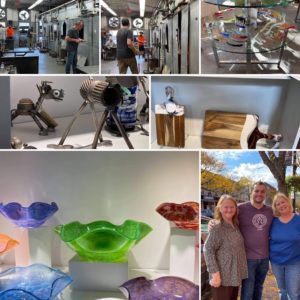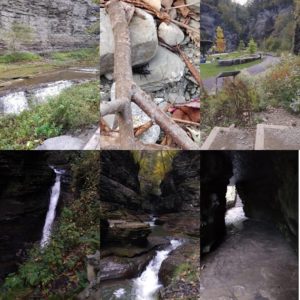 .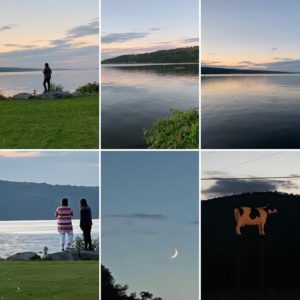 NOVEMBER
Once the boys got back to their schools/workshops in January, they basically were able to stay most of the year.  Only in November, I believe, Ryan had a little cold and was sent home.  Right after that his class closed due to COVID.  However, he tested negative, then he and just one teacher were able to return.  I chuckled when I heard Ryan asked, "Where did everyone go?"
2020-2021 pictures all went home on Thanksgiving break '20, but with COVID somehow Ryan's was lost.  Place was nice enough to reprint for us! left!  21-22 pic, right!  Almost 20, by February '23 he'll turn 21, last year at Re-education!  It is going so fast, there may be only one more school pic.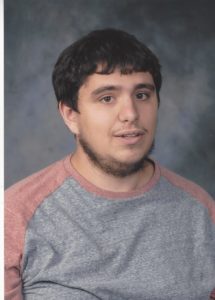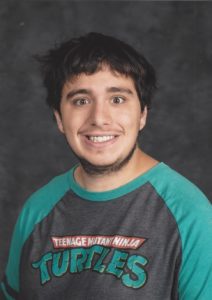 Thanksgiving we were able to get a great walk and then gather for dinner at the boys house.  Chris had his birthday party and got a cool Roku TV!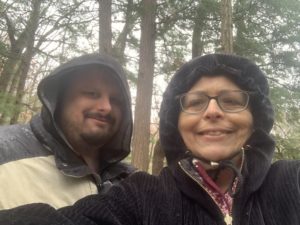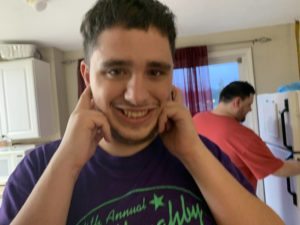 DECEMBER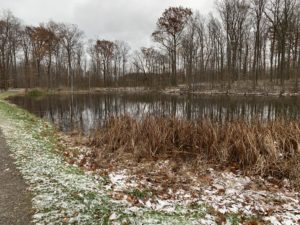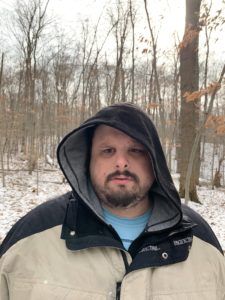 Special Sports and Popcorn shop parties.  An agency was giving out beautiful decor, and Special Sports had a super Christmas exchange!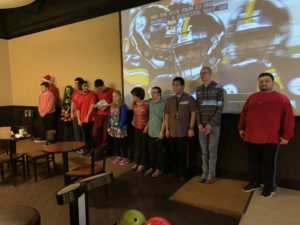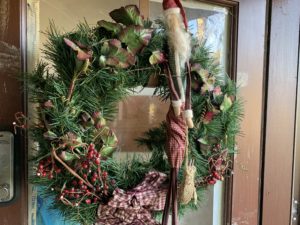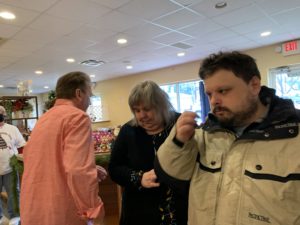 All Hearts Christmas party 🙂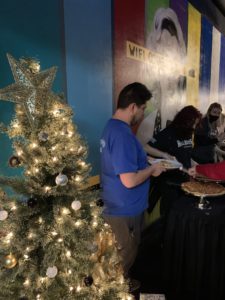 We were excited to have a TV up for the first time in over three years!  It is one we had stored away for the right time!  We also got a smaller TV for bedroom!  Had a wonderful Christmas Day gathering.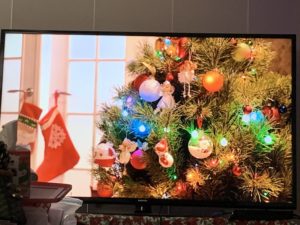 As cases are SERIOUSLY spiking now we are grateful they were able to attend through to their Christmas breaks.  Grateful we were able to gather and see our family. Prayers for you all at this time.   A BLESSED NEW YEAR TO YOU ALL!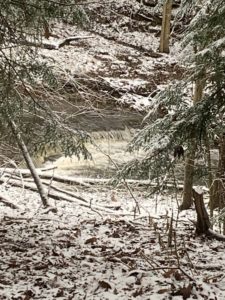 EMAIL: transcribing.mom@gmail.com
EMAIL: daehumphries18@yahoo.com
EMAIL (Rog) thedodger1@att.net
EMAIL (Rog) thedodger64@gmail.com
BLOG:  NEWEST – www.criscollrj.com
BUSINESS BLOG/INFO: line-bright.com This is the area where we will be explaining more about both of our businesses, summarizing my legal transcription, and discussing Roger's court research position. We have also in 2020 added other areas such as a review and listing of our local parks, which can be very helpful this year in entertaining our kids! My "book" is also on there in HTML format – a lot of my high school friends will remember it – I never finished it but still hope to! Ask me for the password…. It's dippy but I still am glad I have it…. (2021 note, I have temporarily (i hope?) lost that password, have to fix that at some point!)
FACEBOOK: www.facebook.com – search for Dorene Enea Humphries and contact to be added.
Roger, Dorene, Christopher, Colleen & Ryan